Metals: Palladium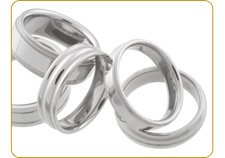 Palladium was added to the Platinum group in 1802. It was used extensively in jewelry as early as 1919 and grew in popularity when Platinum was declared a strategic metal for military use in World War II.
Palladium is a naturally white and lustrous metal.  It weighs less approximately 42% less than Platinum. Since it is a slightly softer metal, Palladium rapidly acquires a soft, glowing patina just like Platinum. All of our Palladium is 95% pure, and is alloyed with Ruthenium for hardness.
Although Palladium is challenging to manufacture, our FusionForged extrusion process results in the finest Palladium products in the world. As a metal in the Platinum Group, Palladium behaves like, and has manufacturing challenges like Platinum. Our Palladium rings are individually created and hand finished meeting our demanding specifications. They must be the finest in the world.
While the cost of raw Palladium as a Platinum Group Metal is much less than the price of gold, the cost of the finished product is not necessarily less. Labor and technology required to make the best quality are costly. Leading edge technology, experience, and dedication to achieving consistently high standards of production are all essential elements of creating Palladium jewelry that is unsurpassed in quality. Be assured that your Palladium wedding bands are the very best.